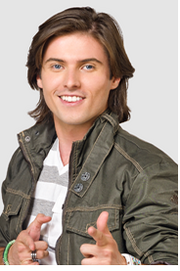 Chema is one of the main characters of Grachi. He is portrayed by Lance Dos Ramos.
Biography
Edit
Daniel's cousin, Chema is charming and popular. He's not too bright, but he makes up for it in enthusiasm. Chema's parents move around a lot, so he lives with his uncle's family. He is athletic, a great cook and afraid of the dark. He is Mecha's boyfriend during the first and second season.
His portrayer, Lance, is the real-life brother of Kimberly Dos Ramos, the portrayer of Matilda.